In year 2, we use lots of hands on practical equipment to help children become secure with number.  Our main tool is base 10, as this can also be drawn, to help children with a range of concepts. Our first topics are Place Value followed by addition and subtraction which will run into Autumn term 2. Children are given lots of opportunities to consolidate and re-visit activities in provision to ensure that they are secure in their understanding.
We will also be completing a number bond challenge once a week and an arithmetic paper, to help children build speed and to promote rapid recall.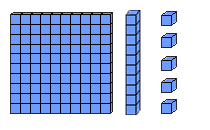 Throughout all of our lessons children will be challenged and be involved in lots of problem solving and reasoning, this means that children are able to challenge themselves if they feel confident to do so. Children can then practise these skills in our maths area.